New Greensburg Website Unveiled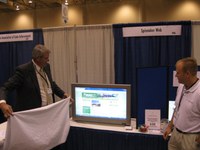 Greensburg Mayor Bob Dixson unveils the new City of Greensburg website.
IMMEDIATE RELEASE
October 9, 2011
For more information, contact:
Mike Burgess
785.233.6278
mburgess@spinnakerweb.com
Bob Dixson
620.723.2751
mayor@greensburgks.org
(Wichita) Greensburg Mayor Bob Dixson unveiled the new Greesnburg website at the League of Kansas Municipalities Annual Conference in Wichita, Kansas.
The new website features a new look that includes a number of new images from the City. City staff have worked hard to improve the content, which includes a new "I Want To" section that features many of the common things a citizen would want to do on the website.
The new site also includes a business directory, weather, and many subtle features that increase the usability of the website. It also has many features that will make the site easier to maintain.
In the aftermath of the EF5 tornado that hit the City of Greensburg, Spinnaker reached out and quickly developed a website that Spinnaker President Mike Burgess worked to keep up to date posting reports from several sources to help give the City one place to refer people to for information.
The City staff quickly took over content updates and have used the website to communicate with the public, businesses, and visitors.
"The content had grown organically over the previous four years, and it was time for an overhaul," said Mike Burgess, President of Spinnaker.
Spinnaker approached the city about letting us redesign the website and implement several new features.
"We are excited about the new website. It does a much better job of showcasing what Greensburg has to offer," Burgess said.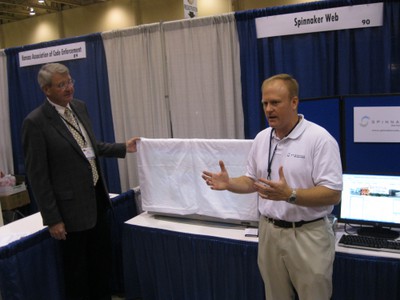 Spinnaker President Mike Burgess telling the history of the Greensburg website with Greensburg Mayor Bob Dixson getting read to unveil the new website.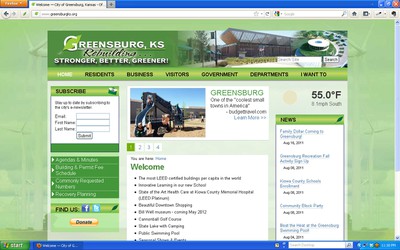 Screen shot of the new City of Greensburg website.