Adding Agendas & Minutes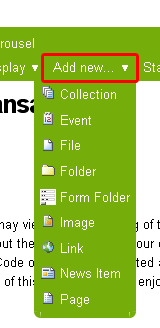 First create a pdf of the approved minutes. (Please see section about creating pdfs if you need help with this.)
While logged in, go to the Minutes folder and select the current year. Click on the "Add new" drop down menu and select "File". (see image to the right)
Enter the date of the meeting for the title (ie January 12, 2012).
Click browse and select the minutes file on your local computer.
Then click save.
The most recent set of minutes should be available at the top of the list.
Frequently Asked Questions
I want to add a set of minutes that is older than the most current one. How do I change the order of the files?

The order is set based on the "Effective date" of the content. To view or change the effective date, you will want to click on the item and click edit. Then click on the dates tab.

I've entered a different date format for the title, how do I change it?

While logged in, browse to that file and click the "Edit" tab. You will be able to change the title to spelled out Month day, year (ie January 12, 2012) and click save.